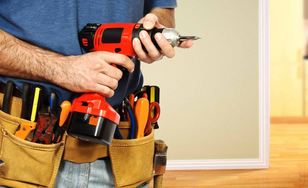 GETTING THE BEST HANDYMAN

For any of your home maintenance needs around Colorado, you need to get a handyman that will do the work with a lot of courtesy delivering the highest quality work. There is a good number of them in Colorado Springs. Finding a handyman is very easy, the only problem is finding a good one.
​
Looking for a handyman does not mean picking a random guy with a tool belt, you should get a little personal and see his or her past work and relation with the customers. That is why it is always advisable to get a referral from friends and family or have a prior meeting with the handyman before making the final contract. Or better still, get a handyman from a well-known service provider company, this will help in reliability, and they will be responsible if the helper happens to under-perform in his job.

Since everybody wants the best services, it is important to look out for certain traits before hiring the handyman. The handyman is going to be responsible for handling your house be it Ceiling Services, Bathroom Remodeling, Drywall Repairs or Kitchen Remodeling; the outcome should be very appealing. Here are the most important qualities to look out for in a handyman;-

1. Licensed and Certified
If you are looking for specialty service to be provided by an electrician, plumber, etc., it is best to find a qualified one for more satisfying results. In some areas, there are town or state regulations and standards that need to be strictly followed and met. Some states require that only certified and licensed professionals in particular fields should provide such services. A handyman with an Extensive training can offer the best and durable services. You sure want an expert knowing that they will solve the problem at hand efficiently.

2. Professional and Courteous
An important quality here, there is nothing so annoying like a disrespectful worker. A great handyman should maintain a professional status at all times and must always have courtesy. He must have utmost respect for you and your property. This applies to when he is working as well as when addressing the client at all times.

3. Punctual and Reliable
A handyman should always be punctual and dependable; any work is best when done at the right time. He should be able to make himself available at the agreed time without fail unless there is an important reason. If you want a home maintenance of any kind, make sure you set an appointment first so that a handyman schedule can be fixed for you. A good service provider will make an effort to come to your property and help you out as soon as possible.
​
4. Trustworthy and Affordable
Honesty is a trait that everybody should possess and handymen are not exempted. This contributes to building trust which in turn improves the client-worker relationship. Affordable prices are a bonus too since there are so many laborers in Colorado, it doesn't mean that the client is entirely spoilt of choices but it the handyman should not be too expensive. His rates must be competitive and reasonable.

5. Well-Equipped with the Necessary Tools
Of course, this is a very significant requirement; a great handyman should be looking for the most efficient tool for his job in the market. He should be up to date with the technology in his particular field since more tools and equipment are being produced to make things better. He should be at the forefront in finding out the current top dealers and purchase the necessary tools. With efficient tools, the repairs not only become faster, but the results will also be very fulfilling.


---